We can finally bring the masterpiece of Beauty and the Beasty live action home! I'm so in love with how well this remake came out. I can't wait to bring it home for my family so that we can watch it over and over!
Available On Digital HD and Blu-ray™ June 6th! The only at Target: Exclusive has a 32-Page Storybook.
The story you love comes to life in the live-action adaptation of Disney's animated classic – with tons of bonus extras not seen in theaters! Join the cast for an Enchanted Table Read, plus Extended Song: "Days in the Sun," Deleted Scenes and more! We've already been watching it over and over again!
Pre-order Beauty and the Beast from Target and get an exclusive storybook with your purchase!
Disney's "Beauty and the Beast," the live-action adaptation of the studio's animated classic, brought the story and characters audiences know and love to spectacular life and broke box-office records. Now the stunning, cinematic event arrives home on June 6 on Digital HD, Blu-ray™, Disney Movies Anywhere, DVD and On-Demand.
Bonus features include*:
BLU-RAY & DIGITAL HD:
Enchanted Table Read – Join the cast for the movie's elaborately staged table read, complete with singing and dancing to live music, set pieces and more.
A Beauty of a Tale – Explore the process of transforming a beloved animated film into a new live-action classic.
The Women Behind "Beauty and the Beast" – Emma Watson introduces several of the talented women in all aspects of production who helped bring this enchanted tale to life.
Making a Moment with Celine Dion – Celine Dion shares what it's like to sing "How Does a Moment Last Forever" – and be a part of the legacy of "Beauty and the Beast."
From Song to Screen: Making the Musical Sequences – See what goes into making some of the best-known moments from "Beauty and the Beast."

"Belle" — Filmmakers and cast reveal how it felt to shoot this memorable scene.
"Be Our Guest" — Discover all that went into creating this epic, primarily virtual performance.
"Gaston" — Join the cast for rehearsals and filming of this rousing, high-energy number.
"Beauty and the Beast" — You're invited on set for the filming of this beloved, classic scene.

Deleted Scenes

Introduction by Director Bill Condon — Director Bill Condon presents a collection of scenes that, for one reason or another, ended up on the cutting-room floor.
Gaston Courts Belle — Pleased with himself after settling a disturbance with the townspeople, a triumphant Gaston attempts to woo Belle.
Bread and Jam for Agathe — On her morning market rounds, Belle stops by to see Agathe, the village beggar woman.
Storming the Ice Gates — The angry mob of villagers, led by Gaston, overwhelms the castle's defenses.
Lumière Torches LeFou — As the fight rages around them, LeFou scuffles with Plumette … until he experiences a sudden, extremely heated interruption.
Monsieur Toilette — LeFou escapes from the brawl into a small room, where he's startled by a castle resident.
Cogsworth Rescues Lumière — When Clothilde the fishmonger threatens Lumière, Cogsworth leaps into the fray.
Treacle the Lasses — Three village lasses chase Chip and Froufrou – Madame Garderobe's dog-turned-footstool – into the kitchen, where a surprise awaits.
LeFou and Monsieur Toilette Reunite — After the spell is broken and the castle residents are returned to human form, LeFou and his new acquaintance meet again.

Extended Song: "Days in the Sun" – Learn more about Beast's childhood in an alternate version of this beautiful song, introduced by director Bill Condon.
"Beauty and the Beast" Music Video – Award-winning artists Ariana Grande and John Legend perform a moving version of this iconic song.
Making the Music Video – Go on set to capture the magic as it happens in Ariana Grande and John Legend's "Beauty and the Beast" music video.
Disney Song Selection – Jump directly to all your favorite songs and sing along with the movie.

"Belle"
"How Does a Moment Last Forever" (Music Box)
"Belle" (Reprise)
"Gaston"
"Be Our Guest"
"Days in the Sun"
"Something There"
"How Does a Moment Last Forever" (Montmartre)
"Beauty and the Beast"
"Evermore"
"The Mob Sing"
"Beauty and the Beast" (Finale)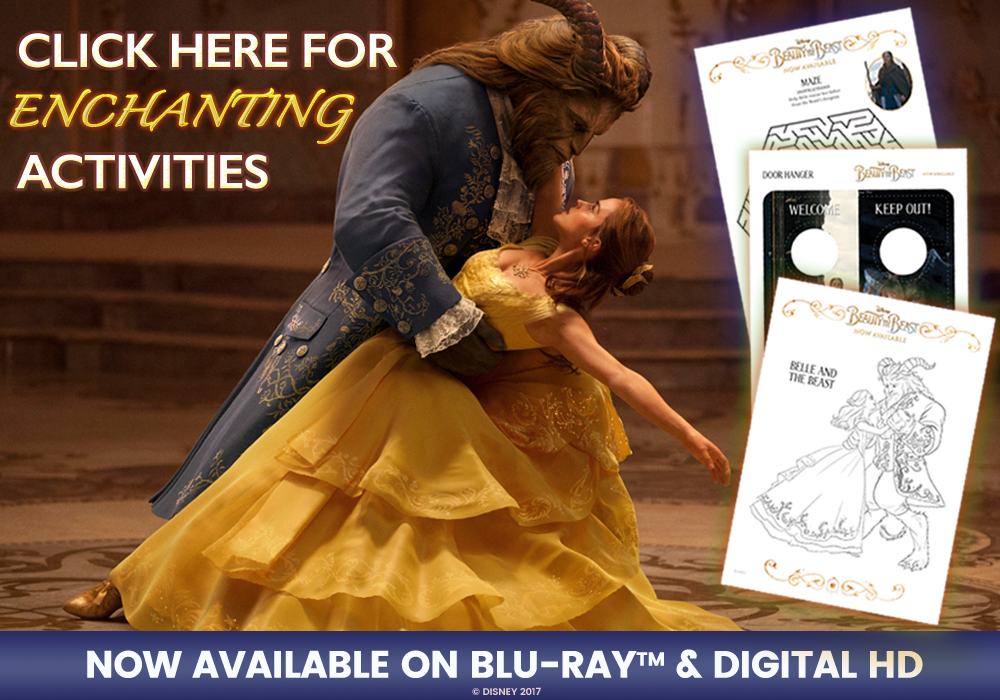 Enter to Win Beauty and the Beast